01 Jun 2023
Eling School came to visit!
We recently welcomed Year R children from Eling Infant School in Totton, near Southampton to join our Year R pupils for the day. 
The day started and finished with a trip on the Walhampton big blue bus across the New Forest, with lots of excitement at the beginning and happy, but very tired children at the end! 
The children quickly made fast friends and enjoyed a day exploring the School grounds. The visit was action packed as we explored all of our favourite Walhampton places enjoying the beautiful colours along The Glade, songs and snacks in the Outdoor Classroom, stories and singing in The Reception garden, fun and play in Owl Corner and a climb up and back down the Curly Whirly Mountain. 
Chef Richard made sure that everyone refuelled with a delicious lunch and Chef Carl treated our guests to some extra special snacks prepared in the Little Kitchen.  
To round off the day's fun, our Head of Riding, Miss Blachford, gave our guests a wonderful tour of the stables where they met the horses and said their goodbyes to their new friends - such a fabulous finale before heading home.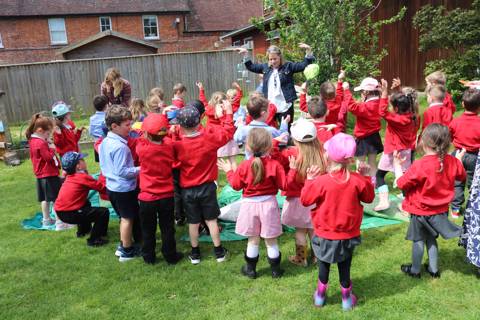 Claire Holly, Head of Pre-Prep, said, "The children had the very best day, and I was so proud of both groups as they made great friendships and played and explored together beautifully. Their fun and laughter were a joy to hear." 
Kelly-Anne Donnelly, a Teaching Assistant from Eling Infant School said, "The children have loved the experience. They really enjoyed meeting the Walhampton children and were wowed by the lakes and the Outdoor Classroom. It was a good opportunity for the children to be outside and to play and learn in a completely different environment. The bus ride across the forest was a highlight for many of the children."       
Walhampton and Eling have a longstanding relationship, and this is a much-anticipated annual trip. We also hosted Lymington Juniors before half term and are working hard to help widen partnership initiatives.  
Having recently launched the Walhampton School Foundation Trust link here:   https://www.walhampton.com/joining-walhampton/walhampton-school-foundation-trust/ we are keen to widen the access to a Walhampton education and to share what we are so very lucky to have with others.