13 Jun 2023
Walhampton hosts annual Junior Wessex athletics competition
This year's Junior Wessex event saw 21 schools come together to compete for a fun packed day of track and field events in the sunshine!
The Walhampton Junior Wessex Team, showed true bravery, grit and determination, in their approach to such a fabulous day. From our little pocket rocket Year 3s, Isabelle, Beatrice, Rupert, Wolf and JJ, who received the biggest cheers, to the fabulous stand out performances from our Year 4 and 5 boys and girls. Bethany and Ben running the perfect technical 800m race, Sylvia exploding out of her sprint start, and Arthur U showing great technical promise in the hurdles. Both Year 4 and 5 girls relay teams went through to the finals and provided slick changeovers to keep the excitement amongst the crowds buzzing.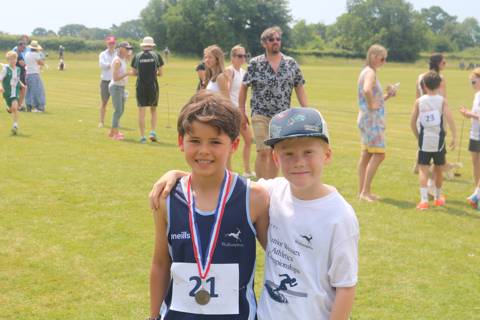 Rob White, Head of Sport, said: "It was a really great day and I would like to thank the sports team and all of our wider staff for helping to organise and support this successful annual event. Special shout out to Frankie, for claiming a very well-deserved Year 5 'Best Athletes' trophy to top a solid Junior Wessex performance from all the athletes - you should all be extremely proud!
See the highlights from the event here:
https://drive.google.com/file/d/171AyBEWgXu9TRfLUDXDYc8PYproeDd5N/view?usp=sharing