10 Feb 2020
The Walhampton Express
MAKING BOARDING IN A COUNTRY SETTING MORE ACCESSIBLE TO LONDON PARENTS.
It's not just Hogwarts where pupils arrive at school by train. Every week the Walhampton Express travels from London through the picturesque Hampshire countryside to arrive at Walhampton Prep School, an outstanding boarding school in the New Forest.
School life in any city can be stressful. Busy, traffic-laden school runs and crowded academic hothouses, can make for a familiar education experience for many families in the metropolis.
It is no wonder that a growing number of London based parents have begun to look further afield for a school that offers wide-open spaces and strong academic rigour, set within an educational environment that allows children to remain younger for longer.
Walhampton Prep School in Lymington, Hampshire, provides all of the above but with the advantage of boarding to suit our challenging modern-day life. Boarding at Walhampton is firmly rooted in a family approach, with love for every child at its core.
Walhampton wholeheartedly believes that a child's school days should be some of the happiest of their lives. From the memorable, caring teachers to the character-building extra activities, friendships and the peace of mind and reassurance that parents receive when their child leaves for school.

BOARDING SCHOOL OPTIONS
From 7-13 years, pupils have the option of choosing from three different types of boarding: flexible, weekly and full-time.
Flexible boarding allows parents to pick and choose when their child stays. For many children, the flexibility of boarding at school for 2 or 3 nights a week provides the opportunity to give boarding a try in our 'home from home' Bradfield House.
Boarding in Bradfield House builds confidence, friendships and develops independence – as well as being a huge amount of fun! Walhampton offers a thoroughly modern take on boarding, providing a pressure-free opportunity to gain some away-from-home experience in a safe and beautiful environment. This opportunity is invaluable if you are considering a boarding senior school for your child or just want to give your son or daughter a unique and new experience.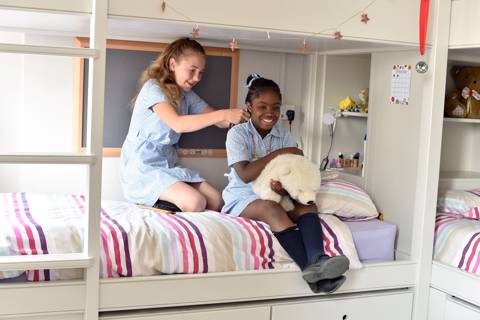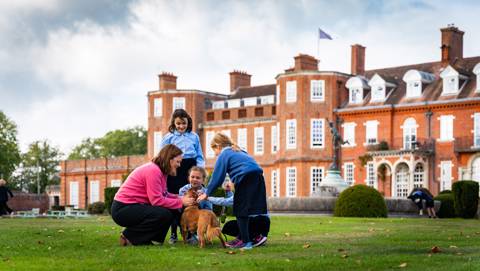 AN IDEAL COUNTRY SCHOOL EDUCATION
A growing number of families are seeing the value of using the Walhampton Express service: a weekly boarding package that brings this remarkable country school closer to London. It offers convenience and peace of mind for many working parents whose children board at Walhampton from Sunday night to Friday. The service removes the daily grind of the school run, the need for out-of-hours childcare and gives practical access to an ideal country school education.
When children come home after a fulfilled and busy school week, space has been created for quality family time.

THE WALHAMPTON EXPRESS
The Walhampton Express allows children to be just an hour and a half train journey away from one of the country's ultimate school settings.
The 'Express' service includes a 5 p.m. Sunday pick up from London Waterloo station by a designated member of staff. Having boarded the 'Walhampton Express', the children are provided with a healthy homemade tea, while their homework, reading or catching up with friends is carefully supervised by a member of Walhampton's staff.
As the train makes its way into the New Forest, the school minibus will be waiting to collect the children from Brockenhurst to arrive back at school for 8 p.m.
On Friday afternoon, the children return home by boarding the 'Walhampton Express' at Brockenhurst accompanied by a member of staff. Homemade teatime snacks are also loaded onto the train, with everyone making a beeline for the pastry chef's shortbread or moreish flapjacks!
Parents meet their children at London Waterloo, happy in the knowledge that during the week their child has enjoyed the sea air, fun with friends and an academic approach that nurtures growing and enquiring minds. It's not only the smiles of pure joy on the children's faces but also the parents which show the Walhampton staff the value of the service.
WALHAMPTON BOARDING SCHOOL ETHOS
The strength and quality of boarding at Walhampton has always been rooted in the school's choice of staff as boarding parents.
Rebecca and Tristan Moore are responsible for boarding at Walhampton and run a vibrant and active boarding house.
Rebecca writes "We feel that it is a real privilege to be leading Walhampton's boarding family. Tristan and I work on the premise that, during the day, downstairs is school time but as soon as the children rush upstairs into Bradfield House, they are coming home. A warm and caring family feel is at the core of boarding. Every child can achieve a true balance between academic work, rest and play. Children from 7-13 years learn the value of integrating into an extended family and begin to understand how these dynamics work. Each boarder learns how to fulfill their own potential and develop genuine life skills that go with them to their Senior School and beyond."

BENEFITS OF BOARDING
Walhampton recognises that there is often nervous apprehension when considering boarding as part of a child's education journey.
Assistant Houseparent, Seb Miell "The boarding team works closely together to ensure that each experience adds to our pupils' academic and pastoral development. Whether it is learning to plan for a Science project, helping a friend who is having a bad day or simply enjoying the freedom of camping in our school grounds, each opportunity contributes to a well-rounded education. As well as learning to be more independent, we often find that our boarders will have a more mature level of emotional intelligence and can read social situations with more accuracy."
The Moore's pastoral focus fosters a genuine teaching that kindness, love, empathy, manners, and respect are fundamental within boarding at Walhampton. These pastoral building blocks are mirrored throughout the school and ensure complete integration between day and boarding pupils. The dedicated and passionate staff team demonstrates its dedication to teaching each child to develop an innate moral compass thus knowing how to choose right from wrong.

SO WHY IS BOARDING AT WALHAMPTON SO APPEALING?
Is it because of the hundred-acre grounds, the spectacular view of the Solent and Isle of Wight, or the sailing and riding facilities? The setting does enhance this truly unique country school. However, happy pupils and parents will put it down to more than that – Walhampton is an inspirational school with a big heart and an ethos rooted in a caring and loving pastoral approach.