10 Jan 2020
Pre-Prep getting it right
By Claire Holly, Head of Pre-Prep
Few things are more precious – or wondrous to behold - than the early years of a child's development. The friends they make. The talents they reveal. The questions they ask. The adventures they enjoy.
Ensuring this crucial, formative period is right for your child is one of the greatest gifts that any parent can give. And it starts with choosing the right school.
Here at Walhampton, amid glorious and inspiring surroundings, we work hard to deliver the things that matter to you and your little ones. We begin by appreciating just how stressful it can be for parents, perhaps returning to work, to find the right nursery or kindergarten - somewhere that will love and nurture your child the way you would yourself. You want a place where they will feel warm, safe and celebrated. A home from home where they can interact, learn and most of all, continue to be children.
Walhampton is that place
From the first toddles to the ever-maturing young conversations, we make sure that every child's journey is full of the sort of delights and discoveries that stimulate young minds. Under our care and with our expert support, characters grow, personalities shine, and kindness takes root. Pupils build friendships, not only with each other but with our well-qualified teachers and support staff.
After all, as author Robert Fulghum once said, "All I really need to know ... I learned in kindergarten."
As I write this, I realise that I have been Walhampton's Head of Pre-Prep for almost two and a half years. How that time has flown! Perhaps that's because I am supported by an outstanding and fully committed team that ensures that from the first moment that a child steps through the Walhampton front door, the welcome is genuine, learning is fun and each and every classroom sparkles with good humour and family feeling. Staff not only believe that creating that atmosphere is their responsibility, they also feel it is their privilege.
We all have memories of our first teachers and how they shaped us. We know just how important those early bonds and secure attachments are. Get it right and children acquire the right values and standards; they develop a lifelong love of learning; the world truly becomes their oyster.
We set great store by creative play and learning, encouraging each young person to listen and to be supportive of others. When we witness another child helping a friend, or performing a random act of kindness, we immediately celebrate that behaviour – and our hearts grow that little bit bigger.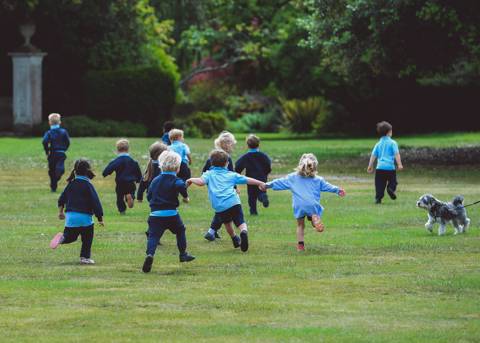 WHY PRE-PREP? WHY WALHAMPTON?
At Walhampton, we build a foundation where a child will flourish, grow and discover their own passion for learning throughout their school life.
There is something special about our little community which can't quite be put into words. It is felt by the pupils, the parents and the staff. It is probably best described as warmth, love and wellbeing – all underpinned by endless opportunity to experience an outstanding all-round education.
Walhampton is full of character and charm - both inside and out. Set within a hundred acres of beautiful grounds, our estate is home to our own Forest School, an outdoor classroom, stables, amazing sports facilities and even our own lakes. In short, everything that allows us to offer the benefits of outdoor learning in the heart of the New Forest. We utilise every aspect of our wonderful setting to create a learning experience you will not find anywhere else.
Why not discover Walhampton School for yourself and see how we can get it right for your child.

A WARM WALHAMPTON WELCOME AWAITS.