10 Nov 2023
Model boat race
Congratulations to all our children for their fantastic entries into our Eco House Model Boat Challenge. Designed over half term using our pre-made House coloured sails, we received over 100 entries which were launched on the lake on Wednesday afternoon and throughout Friday last week.
There was great excitement as the boats were lined up over the two days and once again the race was started by Mrs Williams, with some help from Carlo Consolo from Royal Lymington Yacht Club. It was also fantastic to see lots of innovative designs using recycled materials competing across all Prep School year groups. 
Our Juniors competed on Wednesday afternoon and our Middles and Seniors launched their boats on Friday, alongside special guests from Lymington Juniors and South Baddesley Schools. The racers gathered along the Walhampton lakeside in their heats and weather varied across the two days with a mix of shifting winds; only a lucky few making it across the finish lines amid the challenging and changing conditions.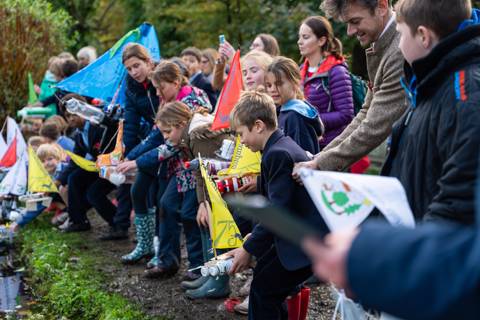 Carlo, Sailing Training Manager at our sailing partner, Royal Lymington Yacht Club, ran a nautical themed morning of activities with our Middles who learnt all about tying knots and international alphabet flags. He said: "It was a pleasure to be involved with this event and see so many interesting designs. The most successful boats were those with large sail areas and weighted keels that allowed for self-righting in between the guests. It was great to see such enthusiasm for model boat sailing and we're pleased to further develop our close partnership with Walhampton and the Lymington community." 
Pupils enjoyed the process of making their boats and taking part in the race, Year 4 pupil, Billy observed: "It was surprising that the smaller, heavier boats with less sail actually went really well." Classmate Lottie added: " I built my boat by myself and was proud that it stayed afloat for the whole time!"
Event organiser, Mrs Sewell, enthused: "There was so much camaraderie among the children and such a great atmosphere with a wonderful team spirit to the whole event as everyone cheered each other on. It was lovely to extend the competition to the wider community this year and welcome our friends from other local schools who were all very excited to take part. Well done to all who took part and we look forward to seeing which models make it to the Setley race over the Christmas holidays!"