24 Nov 2016
Is Boarding School right for My Daughter
WHY WOULD I CHOOSE BOARDING FOR MY LITTLE GIRL?
This is a question that a growing number of parents ask when looking for the right educational path for their daughter.
There are key factors such as stability, safety and a caring family environment that are natural, common factors that all parents want to see in a boarding school. A proven track record and reassurance of strong academic rigour, underpinned with art, music, drama, sport and extracurricular activities will often complete the picture.
However, what else should parents who are looking at boarding schools for their daughter be thinking about?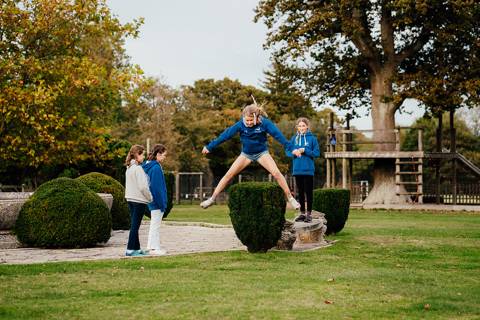 A HOUSE PARENT'S PERSPECTIVE: BOARDING SCHOOL FOR MY DAUGHTER
Mrs Kate Cullum is a house parent at Walhampton Prep School in Lymington, Hampshire, and she believes that a boarding environment has many fundamental benefits, especially for girls:
"I have been a boarding parent for 11 years and I continuously see young girls blossom and grow into confident teenagers in the boarding house.
"In my experience, girls do mature earlier than boys and they often seek to establish a true sense of independence. Boarding can nurture that need in a safe and secure environment.
"Parents will often tell me that their daughter wants to grow up quicker. At Walhampton our ethos believes in allowing children to remain younger for longer, whilst developing real independence skills.
"Our proactive and experienced boarding team works alongside the Main School to develop a thriving structure that provides all of our day and boarding pupils with skills such as self-study and regulation, a genuine confidence and independence to develop a robust moral compass.
"Boarding at Walhampton also has a very homely feel. The girls boarding house is not too big and has a genuine family atmosphere that is cosy, warm and caring. This is underpinned by experienced and caring staff whose number one priority is the children.
"Girls take their friendships very seriously and can often be quite intense. Many of our girls and boys have made friendships at Walhampton that remain with them through to adulthood. As a boarding parent, I understand this and give our girls time to talk and explain the friendships and relationships that they have at school. By giving time and listening to our boarders, we aim to create a genuine sense of trust where problems are easily aired and resolved.
"The open environment of Walhampton's boarding house makes it a vibrant, happy and busy place. Over the past year, we have seen our boarding figures rise significantly. Girls see it as a safe and fun place to be. So many of our girls choose to weekly board here because they see so many benefits; doing prep with a teacher who will always be on hand to point them in the right direction, participating in numerous activities and forming lifelong partnerships with their peers.
"After working hard and letting off steam, quality down time is seen as really important. Weekends here are great fun and for our full-time boarders their Sundays are very special. Cultural trips to Bath or London, bowling, swimming, cinema trips and lovely homely meals in the homes of the staff who live on site are very popular. No one in the school is lonely or left to spend too much time in front of a screen.
"We are very lucky at Walhampton being set in 100 acres of the New Forest and overlook the Solent and the Isle of Wight. This means that we have acres of space and amazing outdoor facilities that give our children a great sense of freedom. The magical setting of Walhampton instils a genuine joy in and appreciation of nature, which in turn nurtures our pupils and provides a sense of freedom, away from the pressures of modern urban life. This results in children staying younger for longer. From beekeeping, horse riding and sailing to bonfires and marshmallows in the woods, walking through the bluebells, strawberry and blackberry picking. These are activities that great boarding school memories are made of.
"The boarding house does go that extra mile to ensure that activities are varied and fun. I assure you, everyone is ready for bed at the end of the day."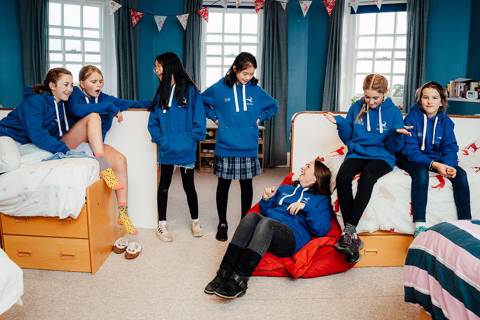 WALHAMPTON BOARDING SCHOOL
Walhampton is a co-ed day school, with options for flexi-boarding and full-time boarding that consistently achieves excellent academic success, and is also passionately committed to nurturing pupils.
Girls and boys flourish into well-rounded teenagers who move onto their chosen senior schools with confidence and very fond memories of their prep school days at Walhampton.


TOP 5 TIPS WHEN THINKING ABOUT BOARDING SCHOOL FOR YOUR DAUGHTER
1. Does the boarding house have an approachable female head of house?
2. Is there a place in the boarding house for 'chill out' time?
3. Do weekend activities cater for girls?
4. Is the use of mobile phones, iPhones, iPad etc. carefully monitored?
5. Do the girl's dorms feel like home?
CONTACT WALHAMPTON BOARDING SCHOOL
For more information on the types of boarding that are available for your child at Walhampton, you can contact us on 01590 613303 or use our contact page. Alternatively, you can visit us on one of our open days, see our open mornings page for dates and times.