31 Oct 2016
Gold Olympic Medal Winner Hollie Webb visits Walhampton Prep
Walhampton School was delighted to welcome Hollie Webb, the GB hockey gold medalist of the 2016 Rio Olympics.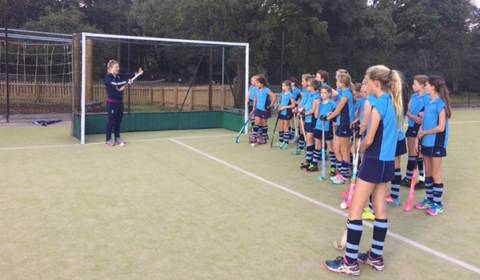 A SPECIAL VISIT FOR OUR PREP SCHOOL HOCKEY GIRLS

Our Year 6-8 girls had an amazing day on Monday 10th October when Hollie Webb, a member of the GB hockey team who scored the final goal to win the gold medal of the 2016 Rio Olympics, came in to coach.
The girls were very excited to both meet and be coached by Hollie in a one hour session. She taught them how to 'eliminate' players as well as learn some fancy 3D skills. The most exciting part of the afternoon was the opportunity to view her gold medal and have her autograph – mostly on the girls' hockey sticks! We would like to say a huge thank you to Hollie for coming into Walhampton and for inspiring our girls during their hockey lessons.
WALHAMPTON PREP INSPIRES SPORTING TALENT
Here at Walhampton we are very keen to have our students be inspired by talented sports people and the students have been privileged to meet both Liz Young, Pro-Golfer on the Ladies European Tour and Sir Ben Ainslie in recent visits.

DISCOVER MORE OF WALHAMPTON PREP SPORTS
Sport is intrinsic to everything we do at Walhampton. We help and support our children excel, we believe in sport for all. We offer a range of sports including football, rugby, hockey, cross country, athletics, swimming, tennis, netball, riding, and rounders. For more information, visit our prep school sports page.