09 Mar 2020
British Science Week
AMY MARSHALL, HEAD OF SCIENCE


It's British Science Week and to celebrate we're taking a look at the fantastic scientific projects underway by the students at Walhampton in Hampshire.
If it moves, it's biology; if it smells, it's chemistry; and if you can't see it, it's probably physics.
And all together – it's science!
Science is a fabulous subject to teach and not just because we have the best 'toys' in the school. Not just during British Science Week but every week of the year we make science fun at Walhampton.
Lessons involve lots of practical work to help introduce new concepts and develop experimental and thinking skills. We don't need to be whizzy and 'blind pupils with science' - it's easier to introduce new ideas using familiar equipment, but putting on a lab coat instantly makes pupils feel (and think!) like scientists. Pupils get excited about thinking like a scientist and the tension is high as they press inflated balloons onto a petri dish of drawing pins or walk on eggshells to demonstrate pressure. I'm getting goose-bumps myself just thinking about it.
Science's tendrils extend into many areas. Most of us have a natural affinity with biology because we are so familiar with living things - especially ourselves and our pets. Chemistry is more about materials and their patterns of behaviour, whilst physics often involves investigating invisible forces and can have a big overlap with maths.
HANDS-ON LEARNING
The teaching of all three involves creating opportunities for pupils to 'see for themselves'. For instance, it is counterintuitive to press a switch to turn a lamp off, but that's exactly what can happen when pupils connect the 'easy route' in a short circuit - it's great to see that 'Eureka!' moment as they work out what is going on.
There is so much to explore in science that we spill it over from lessons into an after-school activity, Crazy Science, where children use neutralisation to inflate King Kong's hand; watch with baited breath as a hard-boiled egg slowly slides into a conical flask (no hands!) and, even move out of their comfort zone (briefly and safely!), holding flaming methane bubbles on their hands.

PROTECTING THE ENVIRONMENT
Science helps inform many of our children's current interests, especially ones that they care fervently about, such as their growing awareness of the Eco-issues facing our planet. Walhampton's pupils act with passion on many eco projects, including:
- Encouraging the school family to collect enough plastic stuffed Eco-bricks to make a sofa.
- Growing tasty fresh crops in the kitchen garden (and quality testing them on the way to the dining room!).
- Putting on a demonstration to express their concern over the climate crisis to the school community.
- Collecting rubbish (pens, crisp packets, plastic lids and stamps) to support 'Send a Cow', Mencap and RNIB charities.
- Fundraising for a range of international and local charities including a school in Cambodia, Southampton's Children's Hospital, Honeypot and the Worldwide Veterinary Service.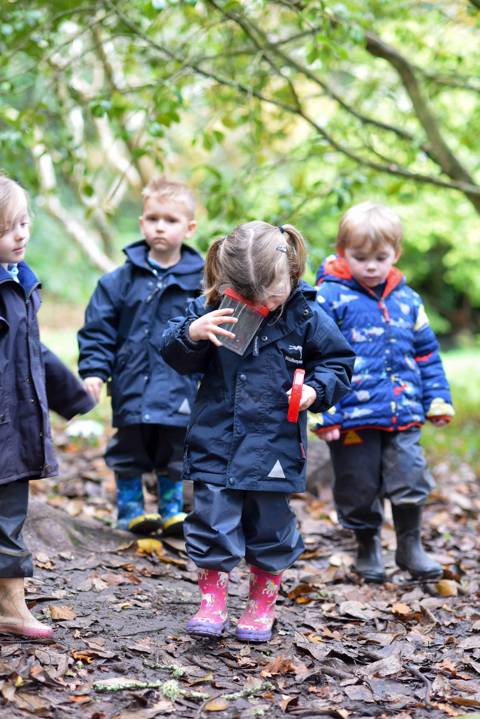 THEORY BECOMES PRACTICE
Science, above all is a practical subject. So, when we drop compostable waste into the centre of the keyhole garden, we can see nutrient recycling in action and appreciate how efficient systems like this are vital in countries like Africa where resources are scarce.
STEAM (Science, Technology, Engineering, Art & Maths) is getting stronger in school too, and many of the ideas that pupils come up with concern the environment. Our keen engineers are inspired to ask questions such as 'Why can't we split car emissions into diamonds and oxygen?' or 'Why can't we clean the oceans by fitting powerful magnets to ships?'. And they loved ourlive online chat with a Facebook engineer.

SUPPORTING BRITISH SCIENCE WEEK
This year's British Science week theme is 'Our Diverse Planet' and Walhampton is blurring the boundaries between the subjects with events such as:
- A live video conference with Piers Torday, author of 'The Last Wild'
- A return visit by KES 6th formers with their Science roadshow.
- Walhampton's first STEAM fair – including 'art' in STEM
- Telling the story of Ekari the orphan elephant
- Competing in the Faraday Challenge
And much, much more.
All this is just touching the surface of science - a huge, exciting, inspiring and all-encompassing subject, and it's a real joy to share it with such fascinated and fascinating young thinkers.